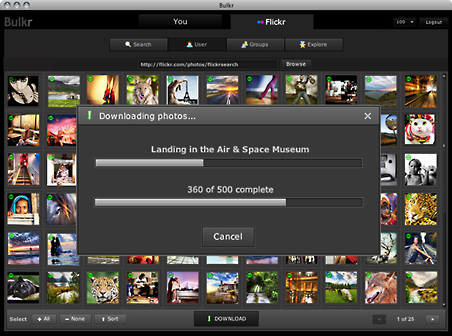 730,687,571 photos downloaded!
That's more than 730 million photos!

Photo download made simple.
Bulkr is a desktop app to backup, browse and download photos + videos from Flickr. Install it free.
Bulkr in just over 1 minute

Backup your photostream & videos with a click
Download Flickr videos
Download your or any user's sets (albums)
Download photos in 4 different sizes

Write title, tags, description, geotag

to EXIF(XMP)
Preview images before download
Auto resume download if connection breaks
Download creative commons photos & videos-
up to 500 at a go from:

Flickr search
Your photostream
User's photostream or set (album)
Your favorites
Any Flickr group

Explored photos

Brilliant, so easy to install and use.
Does exactly what it says on the tin!


This app is the best.
The tool every flick user should have.


It's the only app I tried for downloading 10,000 full-size photos that didn't crash on me.


I've been using this app for about 5 minutes and I wish I'd been using it for 5 years! Brilliant!